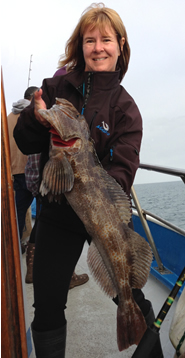 Beverly Seltzer (a.k.a. "Baja Bev") is a retired commercial fisherman, life-long sportfishing enthusiast and author of the book The Lady and the Lingcod. She was born in Beverly Hills, and began sportfishing as a child in the waters off southern California. Between 1989 and 1996 she fished several commercial vessels from central California to Seattle, targeting salmon, lingcod, rockfish, halibut and albacore. This period also included a few trips tuna longlining off Hawaii, a season trolling on the Midway albacore grounds, a couple of months in Alaska, and occasional deck-handing on "party boats". Bev is considered to be one of the top female anglers on the Pacific Coast and is affiliated with many clubs and organizations. She now divides her time between the coastal mountains of Northern California and the seaside town of Bandon, Oregon, with her husband Jeff and their abyssinian "Ace Frehley". Aside from fishing, Bev's other passions include vintage Mopars, horses, cooking, travel and scuba diving.
Don't stress out booking your fishing vacation! Check Bev's Endorsements & Reviews page for recommended lodges and hotels offering fishing adventures (and more) that get her seal of approval as resorts that cater to women and couples.
Browse the photo album for a glimpse of some of her record catches.